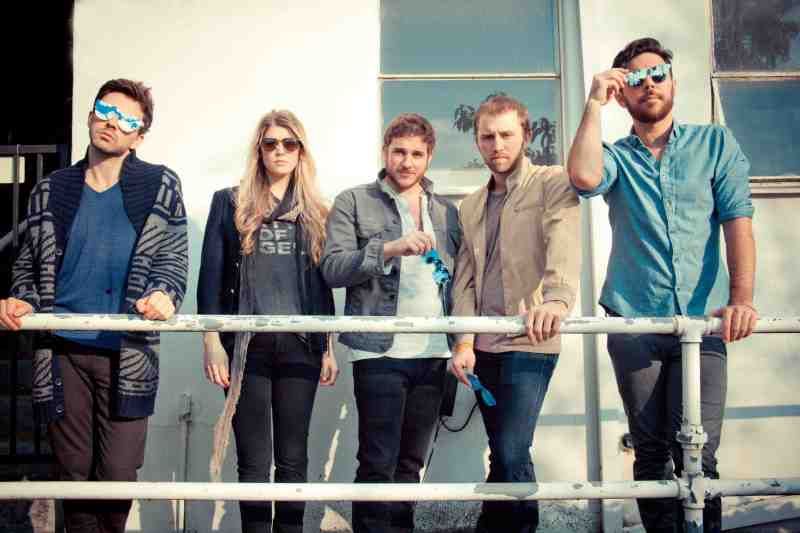 Milo Greene's Self-Titled Debut Album Enters Billboard's Heatseekers Chart At No. 1
Band Performs Album's First Single, "1957,"
On "Late Show with David Letterman" Tonight
Tour Plans Include Sold Out Show At NYC's Mercury Lounge Tomorrow, Lollapalooza Performance, Fall Headline Run, Plus Dates With The Walkmen
Band Unveils Trailer For Its Short Film, "Moddison,"
Milo Greene will make its national television debut tonight on "Late Show with David Letterman." The Los Angeles-based quintet will perform "1957," the lead single from its self-titled debut album. Released by Chop Shop/Atlantic Records, the album, which the group co-produced with Ryan Hadlock (The Lumineers), just entered Billboard's Heatseekers chart at No. 1.
The band is currently in the middle of their summer headline run, which includes stops at Lollapalooza and a sold out Mercury Lounge show in New York City tomorrow night. Milo Greene's fall headline tour goes on sale this Friday, July 27th, and support dates with The Walkmen will be announced shortly. Fans who register for Milo Greene's official e-mail list at www.milogreene.com will have access to a ticket presale for the band's fall headline dates today at 12 PM local venue time, with early venue entry guaranteed.
After recording their full-length debut at Bear Creek Studio outside Seattle, WA,the members of Milo Greene turned their attention to writing and producing a short film to complement the album. Entitled "Moddison" – after an instrumental track on the record – it was shot in rustic Shaver Lake, CA, where the band had recorded many of its early demos. Directed by Chad Huff, "Moddison" is a series of individual music videos. While each stands on its own, when laced together in the proper sequence, the videos render a complete cinematic narrative.
You can check out the trailer
See the band discuss the making of "Moddison"
The videos are being premiered online – although not necessarily in the order that they appear in the 30-minute film. Milo Greene will put all the pieces together with a Los Angeles screening of "Moddison" in its entirety later this year. In the meantime, fans can check out the "1957" clip HERE.
"'1957'…is at once driving and lilting, filled to the brim with jangly guitar and exquisite vocal harmonies," observed the Los Angeles Times while Nylon hailed Milo Greene as the "feel-good band of the summer." "Milo Greene cast a cinematic spin on the sound forged decades ago by Laurel Canyon deities Crosby, Stills and Nash and Fleetwood Mac," noted Angeleno.
Associated Press praised the album as "a tapestry of richly reverbed guitar, inventive drum work and something sorely missing amid today's morass of arrange-by-numbers rock music – a beautifully delivered concept. That concept is to present their music absent of the disturbances of a frenetic society that closes in from all sides."
Milo Greene is: Robbie Arnett, Graham Fink, Andrew Heringer, Curtis Marrero and Marlana Sheetz.
Milo Greene – Upcoming Tour Dates
Summer Headline Tour
7/26 – New York, NY @ Mercury Lounge (early show) SOLD OUT
7/28 – Boston, MA @ Middle East (upstairs)
7/29 – Montreal, QC @ Divian Orange
7/31 – Toronto, ON @ The Horseshoe Tavern
8/1 – Buffalo, NY @ Mohawk Place
8/3 – Chicago, IL @ Schubas w/The War On Drugs SOLD OUT
8/4 – Chicago, IL @ Lollapalooza (PlayStation stage)
8/7 – Madison, WI @ The Frequency
8/8 – Minneapolis, MN @ 7th St. Entry
8/10 – Denver, CO @ Hi-Dive
8/11 – Salt Lake City, UT @ Kilby Court
8/23 – Visalia, CA @ The Cellar Door
8/25 – Seattle, WA @ The End 107.7 Presents Summer Camp '12
9/8 – Portland, OR @ MFNW
9/9 – Dana Point, CA @ Doheny Days at Doheny State Beach
Fall Headline Tour
10/5 – Tucson, AZ @ Club Congress
10/6 – Phoenix, AZ @ Sail Inn
10/10 – Dallas, TX @ La Grange
10/16 – Nashville, TN @ The High Watt
10/17 – Birmingham, AL @ Bottletree
10/18 – Atlanta, GA @ The EARL
10/19 – Chapel Hill, NC @ Local 506
10/20 – Charlottesville, VA @ The Southern
10/23 – Washington, DC @ Rock N Roll Hotel
10/25 – New York, NY @ Bowery Ballroom
10/26 – Philadelphia, PA @ Johnny Brenda's
10/27 – Boston, MA @ Brighton Music Hall
10/28 -Montreal, QC @ La Salsa Rosa
10/29 – Toronto, ON @ The Horseshoe Tavern
11/1 – Ann Arbor, MI @ The Blind Pig
11/2 – Chicago, IL @ Lincoln Hall
11/4 – Minneapolis, MN @ Varsity Theater
11/7 – St. Louis, MO @ The Firebird
11/8 – Lawrence, KS @ Bottleneck
11/9 – Denver, CO @ The Bluebird Theater
11/10 – Salt Lake City, UT @ Kilby Court
11/13 – Vancouver, BC @ Media Club
11/14 – Seattle, WA @ The Crocodile
11/16 – San Francisco, CA @ The Independent