LE GUESS WHO? ANNOUNCES INITIAL FESTIVAL LINEUP FOR 2012
Nov. 29 – Dec. 2 – Utrecht, Holland
F*** BUTTONS, DIRTY THREE, GRIMES, DESTROYER, TIM HECKER
DEERHOOF, MONO,JULIANNA BARWICK, COLIN STETSON & MANY MORE CONFIRMED!
TICKETS FOR ALL 4 DAYS ON SALE NOW
Listen to the Le Guess Who? Playlist at Spotify
Le Guess Who? has announced the initial lineup for their 6th annual music festival taking place November 29th – December 2nd in Utrecht, a city 30 minutes outside of Amsterdam, Netherlands. Le Guess Who? is one of the leading International festivals for independent music, with this year's lineup including Destroyer, MONO, Julianna Barwick, F*** Buttons, Grimes, a special festival opening set by Colin Stetson, and many more.
From today (AUG 1) you can buy tickets for all 4 days for $80 here.
The Lonely Planet Travel Guide rated Utrecht as #6 of the world's unsung places: "this graceful city is bizarrely under-visited. Its old town is encircled by a medieval canal. Built to connect the canal side with Utrecht's impressive townhouses, today these unique spaces are filled with bohemian cafes, shops, restaurants and bars." This year the Le Guess Who? has made traveling to Utrecht even easier by setting up a couchsurfing page on the website where festival attendees can arrange various sleeping accommodations. For more info visit www.leguesswho.nl/couchsurfing
Last November the festival celebrated its 5-year anniversary with performances by Panda Bear, Bill Callahan, Low, John Maus, Suuns, and introduced the free mini-festival 'Le Mini Who?' proved to be a successful supplement. Moreover, Le Guess Who? commenced a spring edition called 'Le Guess Who? May Day', a one-day festival with shows of Cloud Nothings, Willis Earl Beal, Julia Holter and more.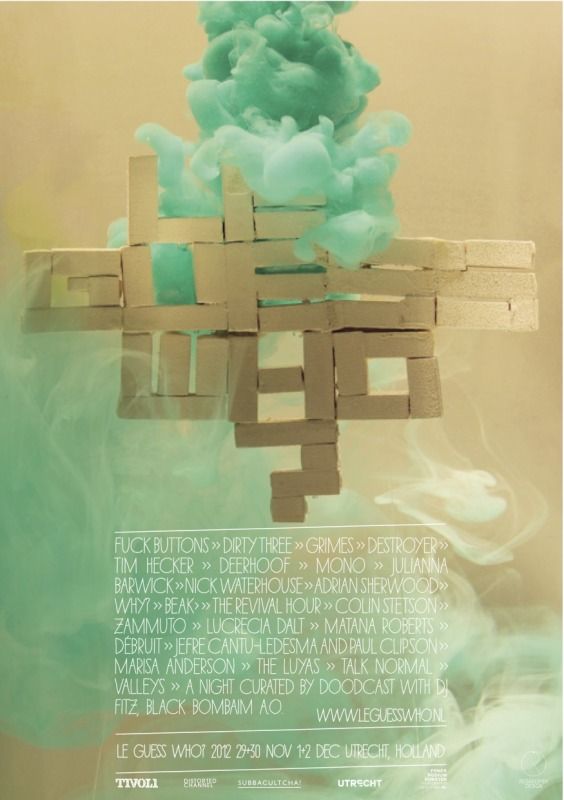 Le Guess Who? Confirmed lineup so far:
F*** BUTTONS
DIRTY THREE
GRIMES
DESTROYER
TIM HECKER
DEERHOOF
MONO
JULIANNA BARWICK
NICK WATERHOUSE
ADRIAN SHERWOOD
WHY?
BEAK>
THE REVIVAL HOUR
ZAMMUTO
LUCRECIA DALT
MATANA ROBERTS
DEBRUIT
JEFRE CANTU-LEDESMA & PAUL CLIPSON
MARISA ANDERSON
THE LUYAS
TALK NORMAL
VALLEYS
*A Night Curated By Doodcast With Dj Fitz, Black Bombaim A.O.
And festival opening set by COLIN STETSON