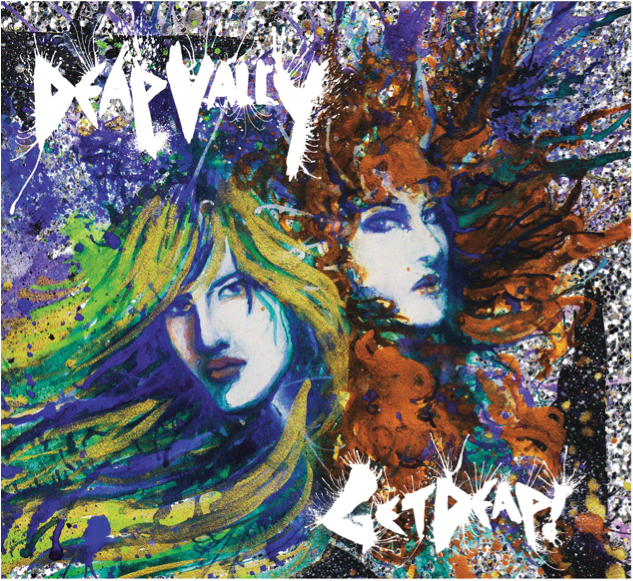 Deap Vally and Cherrytree Announce Get Deap! EP To Be Released April 9th
Pre-Order & Instagram Contest Launches March 19th
Band To Play Multiple Upcoming Festivals including Coachella & Bonnaroo
Los Angeles' all-female rock-duo Deap Vally are excited to announce the release of their Get Deap! EP on April 9th. This is the band's first U.S. release on Cherrytree/Communion/Island/Interscope. The Get Deap! EP offers the first taste of what's to come on the band's upcoming full-length album, which is near completion and will be released later this year. This all follows the release of widely acclaimed songs in the UK, which gained the band a 'Band of the Week' feature in NME and got them playlisted by Radio 1. Of the band's debut single "Gonna Make My Own Money," NME said "[Deap Vally draws] on the unrepentant strut of Ike and Tina and the heavyweight clatter of Led Zeppelin, as well as Karen O's tree-felling caterwaul."
The Get Deap! EP, produced by Lars Stalfors (The Mars Volta, Matt & Kim) includes four songs, including "Gonna Make My Own Money" and new song "Lies." Watch the new video for "Lies," which is rapidly approaching 400k views, at the link below:
To coincide with this announcement, the band has also revealed the details of a #GetDeap Instagram contest, in which fans can post any image (whether it is drawn, sculpted, assembled, choreographed, etc.) on the social media site that they feel best exemplifies "Getting Deap." Tag #GetDeap and the girls will choose their favorites to win. For more information: deapvally.com/instagramcontest
Deap Vally will be playing a number of festivals this spring and summer following the release of the Get Deap! EP, beginning on April 14 and 21 at California's Coachella Valley Music and Arts Festival. They've already made a name for themselves as a great live act through supporting tours with Mumford & Sons and Muse. The girls will also be playing at this year's Bonnaroo Music Festival in June, as well as T in the Park Festival and Reading & Leeds overseas in July and August. For a full list of festival dates, please see below.
Deap Vally Upcoming Tour Dates
Apr 14 – Indio, CA @ Coachella
Apr 21 – Indio, CA @ Coachella
Apr 28 – Austin, TX @ Psychfest
June 13-16 – Manchester, TN @ Bonnaroo Music Festival
July 12-13 – Balado, Kinross-shire, Scotland @ T In The Park Festival
Aug 23-25 – Reading, UK & Leeds, UK @ Reading & Leeds Festival
Get Deap! EP
Produced By Lars Stalfors, Mixed by Robert Orton
Track listing:
1. Lies
2. End Of The World
3. Gonna Make My Own Money
4. Ain't Fair