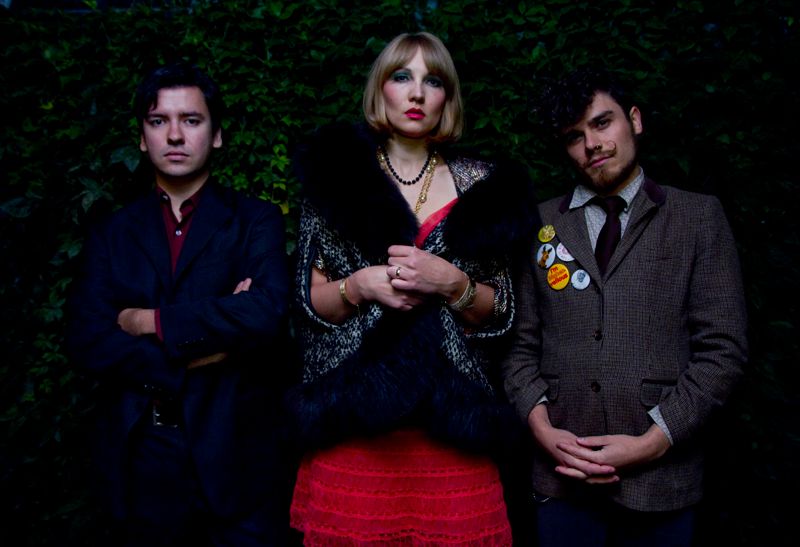 Hard Luck Bar is located on one of the less glitzy streets of Toronto. It's downtown, but it's on Dundas St. W, in a undeveloped area of the city where random taped up storefronts abound and franchises are the only thing adding colour. Hard Luck Bar is everything the name suggests. A rose by any other name would still invoke feelings of latent anger and disenfranchisement. It is a haunt for punk music and the burgeoning post-punk scene. You can tell everyone has made a conscious choice to be there and that's a powerful thing for a bar. I asked This Hisses what they thought of the venue; "As long as there's a good PA and they can hear the vocals, then it's good. We're a loud band. We don't like to play places where they tell us to turn it down." Just hearing them say it makes me believe it. "We're loud," they say simply. "We need to play loud." I nod emphatically.
Well sure, who wants to play to be merry when you can melt people's faces off? "He's the most beautiful dynamic drummer I have ever seen," Julia says of JP Perron. "I saw him play in another band and when he came home from touring I plucked up the courage and I shyly asked him what he was up to. We didn't know if was going to work but it did." Julia and Patrick Short, lead guitar, had known each other for years. The two met when Patrick played with her brother. Afterwards she 'cherry picked' him for This Hisses.
I tell them that I've been listening to their album, that I was curious about the name Anhedonia. The title in the strictest sense describes a person who is unable to experience pleasure from normal things, but the song of the same name is specifically about a person whose warmth is unsung. I ask them if they feel that this can be said for punk music; it being inaccessible for most, but essentially having a message of courage and loyalty (louder and darker for some reason means seldom understood). "I think we're drawn to hard music for different reasons," says Julia. "It's a little bit of a protective sphere. We let ourselves get honest, but there will always this wall of tough sound that protects us."
Post-punk music, and I use the word traditionally lightly here, describes heavy guitar and drums akin to punk with an intrusive element of experimentation. For This Hisses, that translates to an insanely amazing guitar that sounds like it's pouring out of the speaker, and drums that you literally have to shake out of your body; all that and Julia's opera trained voice calling to you from somewhere out of the darkness. It's intense and oddly languid at the same time, all in the best way possible. "This person is seeking pleasure and achieving disappointment. So it's about the wonderment of 'Wow, if you could be free of this path of pursuing pleasure, then maybe you could get on with things in life, and not risk that disappointment and that vulnerability'."
Thank God someone is taking the time to take this message on, I think. We really should just be getting on with the doing of things. I asked JP if he always felt that way. "I started in Toronto playing music cause I wanted to be cool," he says. "Then I realized I wasn't cool, so I just focused on being a better songwriter."
"You've got a Slater from Empire Records thing going on," I respond.
He doesn't flinch, just continues. "I got into punk rock because all my guitar heroes' bands broke up and I was like, what now?" I can't tell if he's kidding or not, he says it stone cold. JP laughs.
They're from Winnipeg , they say, which apparently isn't so obscure after all, and they have no plans on moving to Toronto any time soon. "It would give us more access to the industry, but we're still cultivating our artistic sensibilities. Winnipeg has a great art scene and it's a great affordable city to live in. We want an audience that's into a great product." For them, the size of the market is not important, and they feel that taking on bigger markets is not something to be taken lightly. "We get the confidence and the support in Winnipeg to try to tackle the bigger markets. There's nothing wrong with that. There is high quality music and high quality art in Winnipeg. It's a bit of secret but it's a good one." I can't imagine a better reason to be in Winnipeg than taking the time to respect the craft. Then Julia sips her tea, and says, "I don't think people make a living in music anymore anyway."
JP is nodding his head at Julia. He's standing just to the side of her twirling his moustache and listening. He agrees with her. "We've all played in plenty of bands and done lots of different stuff. With this one, we trying to hone our sound to keep it distilled, compact and tight. As far as trying to get other people to hear it, I don't know man."
"Trim the fat," says Patrick, and they both look at him. He catches Julia's eye, "Just keep trimming the fat." She smiles and shakes her at him. This is one of the things I really like about this band; you can tell that they're really good friends who share a common goal of making beautiful music. I interrupt the moment and ask Patrick what the future holds for him. He answers me deadpan, 'Try to be cool again."
"I get such joy out of playing live shows that I won't be able to stop," says JP. "I'll keep pushing myself to try things that I'm uncomfortable with, like making an electronic jump. I want to challenge myself to do different things."
Julia is nodding in agreement to this too. This seemingly would open too many doors wouldn't it? If people pursued every possible path in life we would get nowhere. Does this mean that they'll be jumping mediums one day? "I find that everything I have to say I can say through music," says Julia. "A lot of my powerful emotions… music is the way that I can most strongly present them. That's how I deal. I want to write the songs and put the words to them."
The Torontoist called their song 'My Love He Shot a Sparrow' The Best Song About Murder at NXNE, and for obvious reasons. The lyrical content of that song is so expansive yet precise at the same time that it literally focuses the mind into a calmness and oddly invigorates the soul that same time. This can be said about their entire album; incredible musicianship, heavy themes and notes, tremendous depth of character, and darkness that cloaks your world in a black glitterscape.
When I roll up to the Hard Luck Bar later that night, I step into its grimy splendor with immense anticipation. I walk over to the bar, do my best Clint Eastwood to the bartender, and order a bottle of 50. I take a seat in front of the sound booth and rest my legs across the bench. When Julia stands up the microphone, her sheer closeness to the mic, and the subtle breath that escapes her, starts the pull you feel when speakers power up. Everything that is nailed to the floor, which in Hard Luck Bar means everything, starts vibrating from the force of the sound coming from the speakers; the guitar pours from them, the hard sizzle of the drums jangles, Julia's voice pushes from their great depths.
Brace yourself, I whisper.