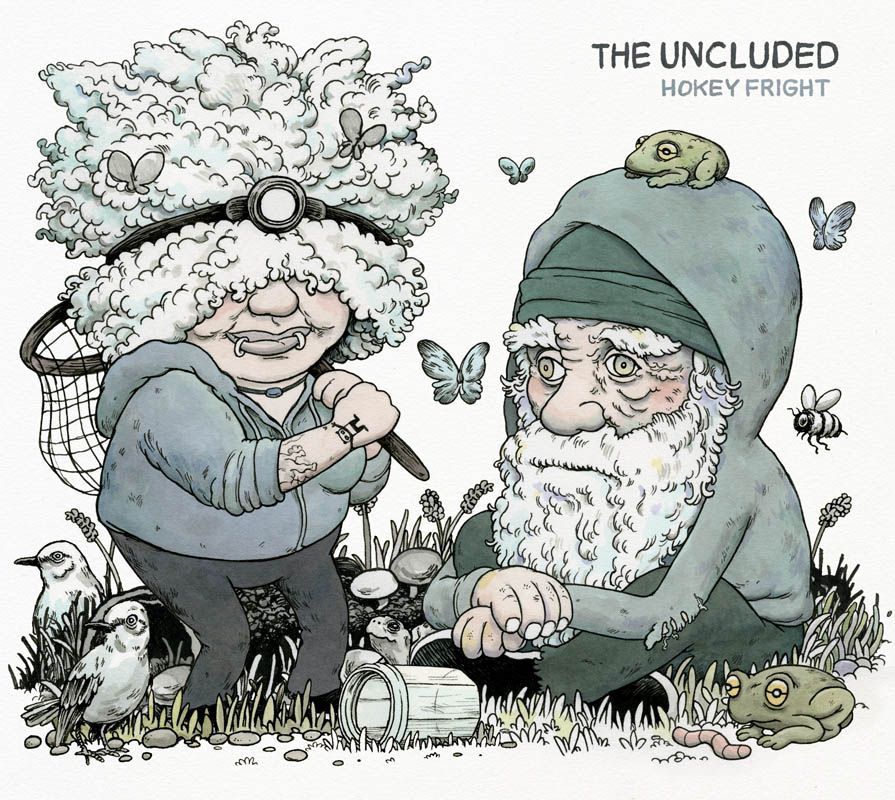 The Uncluded, featuring rapper Aesop Rock and folk singer/songwriter Kimya Dawson are releasing their debut album Hokey Fright May 7th on Rhymesayers. The band recently made a viral video for the album track "Scissorhands." To watch the video, click the link below:
When the pair collaborated on both Aesop's Skelethon (Rhymesayers) and Kimya's Thunder Thighs (Great Crap Factory), the two decided that they wanted to continue making music with each other as a group. The band name, which means to keep the things you don't appreciate out of your life, is based on an excerpt from Michael Bernard Loggins' book Imaginationally. This record helps to tell the story of two people who are finding therapy through making art together.
Hokey Fright's 16 tracks were written, performed and recorded entirely by Aesop and Kimya, except for a guest drum appearance by James McNew of Yo La Tengo on "Delicate Cycle". The album artwork was also done by illustrator/artist Travis Millard. While the record retains Aesop's signature dense wordplay and Kimya's soft spoken and innocent lyrics, the album has a dark feel, as the record was recorded in the wake of recent personal losses. While it may seem like an unusual pair, each artists' best qualities shine through making an enjoyable listen for fans of both.
Kimya Dawson is a Grammy winning, platinum selling singer songwriter most widely known for her work on the JUNO soundtrack and her former band, The Moldy Peaches. She has released 7 solo albums, including a children's album "Alphabutt".
Aesop Rock (aka Ian Bavitz) is a critically acclaimed hip hop artist/producer, recognized for his dense and abstract word play. He has released six solo albums, three EPs, and a 45-minute piece of music designed for runners, commissioned by Nike. Lyrics have been published in the New York Times Best Seller Hip Hop Speaks to Children, as well as Yale University's Anthology of Rap (Nov. 2010). Aesop is also co-founder of 900bats.com, a creative resource of arts, information, and oddities