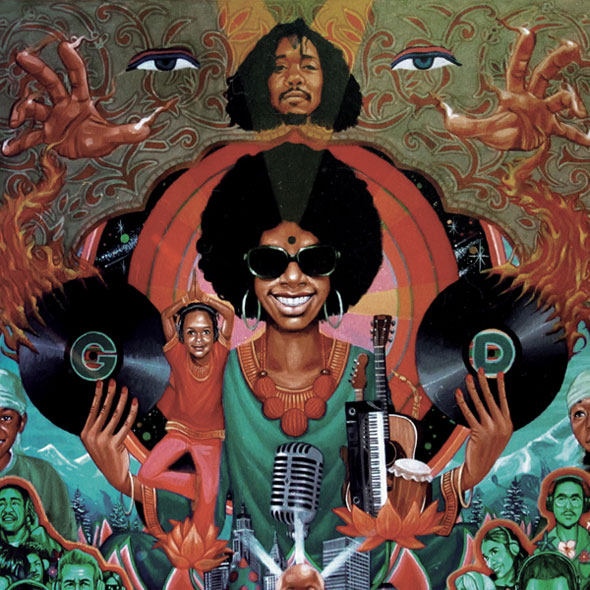 The Lighthouse to be Released via Their Own SomeOthaShip Connect Record Label; Album Artwork By Acclaimed Painter Tokio Aoyama
On May 21, 2013, singer, songwriter, and producer Georgia Anne Muldrow and her husband, rapper, poet, and producer Dudley Perkins aka Declaime, will release their new album The Lighthouse via their record label, SomeOthaShip Connect. Often noted for her unorthodox, indefinable, sample-free original production, Georgia has built a repertoire as one of the leading new producers. Georgia's powerful vocals and instrumentation combined with Dudley's metaphoric and poetic cadence, makes for a metaphysical reference-filled sonic landscape that transcends time and space. To accompany the announcement, Georgia and Dudley are unveiling the album tracklisting and artwork, which was commissioned by Japanese visual artist Tokio Aoyama.
The Lighthouse serves not only as the second full-length from G&D, but also as the first collaborative album from the pair since 2009. After a series of solo releases from both, including Georgia's collaborative album with Madlib, Seeds, and Dudley's Self Study, produced by Georgia, the pair are uniting under the alias of G&D to uplift and raise the vibration of our collective consciousness through music. Together, the two represent a rare space in the music industry not only as a hugely spiritual and vegan husband and wife duo, but also as a father and mother, and co-owners of their own independent label.
Each of those elements influence the music heard throughout The Lighthouse, an album that expertly pulls together elements of funk, soul, psychedelic jazz, and hip-hop, while drawing on personal experiences to tackle issues of parenthood, social responsibility, war, and more.
For the album artwork, G&D enlisted Japanese visual artist Tokio Aoyama who did a full-scale canvas painting of the unique image, which features artistic depictions of G&D alongside elements of life and music that serve as influences throughout the album. The Lighthouse continues a long-running string of collaborations between Georgia & Dudley and Tokio, with G&D first tapping Tokio in 2007, and working with him for a number of projects since then. Says Dudley, "We go way back with Tokio and he listens very carefully to our music so we let him run with whatever concept he wanted; we trust him. He even came from Japan to our home to meet with us. There's a lot going on in the artwork and everything speaks true to how we live, who we are. This art speaks to how we're here to disrupt the industry and society with our music."
The Lighthouse Tracklist
1. Intro
2. Lighthouse feat. LMNO & Shana Muldrow
3. Soulclap
4. Fam Bam
5. Electric
6. Power
7. Stand
8. No More War
9. Timeline
10. A Funk Supreme Vs. The Chemtrail Agenda
11. Popstopper
12. What
13. Dance
14. Emo Funk
15. Muthadear
16. The Word
17. Majesty